Free local delivery within 5 miles of the store on orders $30 or more!
Walk in shopping at 1725 N. Swan every day 10-5!
Login
Log in if you have an account
Register
Having an account with us will allow you to check out faster in the future, store multiple addresses, view and track your orders in your account, and more.
Create an account
Shipping, Returns, Shop Policy
Shipping info!
We ship either USPS Priority, FedEx, or UPS depending on weight and destination. We ship the next business day from when the order was placed. Any orders placed on Saturday will ship on Monday.
We take 1-2 days to pack and send your order out. Generally you can expect to receive your shipment within 7-9 days from when the order was placed, barring any carrier delays that are out of our control.
All shipping charges are calculated based on weight and destination. Shipping charges are calculated at checkout!
We reuse boxes and packing material that we receive our shipments in! We believe that reusing is better than recycling.
We do not offer international shipping.
Tucson Local Delivery info!
We only deliver on Monday-Friday!
If you live within a 5 mile radius of the store and your purchase is over $30, you will qualify for free delivery! If you live outside this radius, we will deliver for a $10 delivery fee. (Please note: There may be some items we have that are available for curbside pickup, only!)
If you place your order Sunday-Thursday, we will deliver it the next day! 
If you place your order Friday or Saturday, we will deliver it on Monday!
If you live in a gated community, please remember to tell us the gate code in the comment box at checkout!
Check out this chart to see if you qualify for free delivery on an order $30 or more!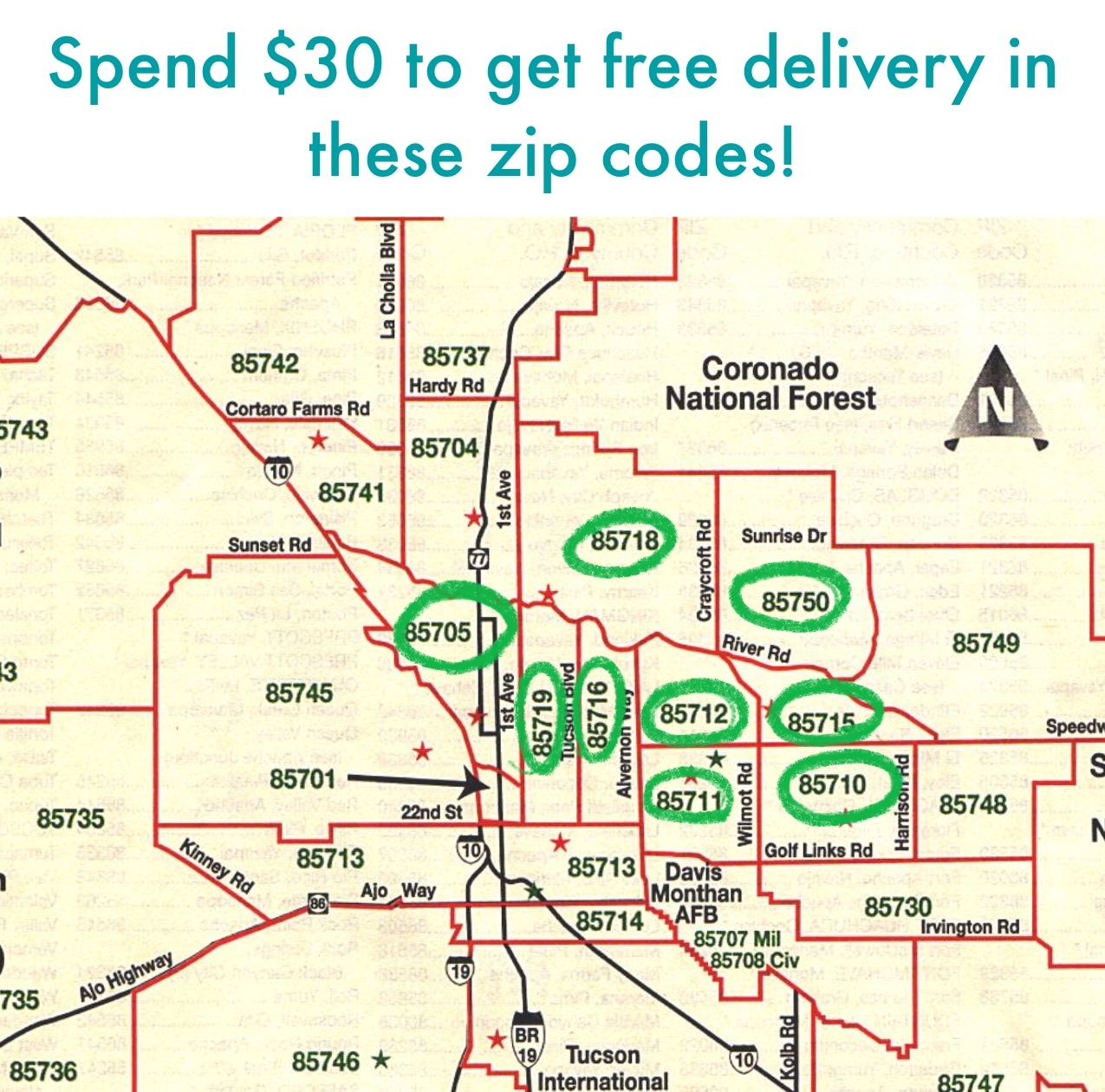 Curbside Pickup info!
Any order is eligible for curbside pickup with no order minimum!
We will have your order ready for pickup the following day. We will email you when your order is ready, so make sure you wait to hear from us!
If you place an order for pickup, your order will be ready for you the next day at 12 pm!
All Curbside orders are for pickup at our new store at 1725 N Swan Rd!
About Returns:
All returns must be made in store at this time. We apologize for any inconvenience!
If you made a purchase in store, unopened, unused items (with original tags still attached if applicable) accompanied by a receipt may be returned for a full refund within 7 days of purchase. Items may be returned for store credit within 60 days of purchase.
All returns from online sales must be made in store within 7 days of purchase for a full refund. We will refund the paypal account you used to purchase your items online. Items must be unopened and unused, with original tags still attached if applicable. Items may be returned for store credit within 60 days of purchase.
About store credit:
If you would like to use one of our gift cards to pay for your online order, we can take that payment over the phone! If you have a paper gift certificate, those can only be used in store. However, store credit never expires, no matter what!
If you have questions about something you ordered from us, please either send us an email [email protected] or give us a call at (520)615-6266 from 10-5pm MST and we'll be happy to help!
Terms & Conditions
By using this website, you are agreeing to our Conditions of Use. This Agreement describes the terms and conditions applicable to the use of this website, which may be updated without notice from time to time by updating this posting.
Hyperlinks
This website may provide you with links to third party web sites not owned or affiliated with our site. We have no control over these websites nor the material within them, and do not endorse the material found on any hyperlinked web site. We are not responsible for the availability of these linked web sites. Additionally, we shall not be held responsible or liable, directly or indirectly, for any claim in connection with computer viruses, material, goods or services provided or offered on or through any of these third party web sites or any other website that may be linked to these third party websites.
Material on Members' Sites
We create and manage all the content within our website. The site shell was designed for us by Lightspeed. Lightspeed does not control the material within these websites, and does not endorse the material in these sites. Questions or concerns about this site should be addressed directly to our store.
Limitations of Liability
This site uses systems created by Lightspeed, as well as systems created by other, open-source programmers. While Lightspeed strives to ensure that all of the systems are secure and error free, neither we, as site owners; nor Lightspeed, as site designers, can guarantee that all systems are flawless. Neither our store nor Lightspeed is liable for any errors in any of the web systems presented on this site. If you notice any system errors, please bring them to our attention, and we will try to fix the error as soon as possible.
Trademarks, Service Marks, Copyrights and Use of Third Party Materials
Material in this website are either owned or copyrighted by our store, our clients, their advertisers and/or by others. Except as stated otherwise, none of the material on this website may be saved, downloaded, copied or reproduced in any form without the prior written consent of the copyright owner. All other trademarks or service marks are owned by their respective companies. All electronic images and video are for viewing purposes only. No permission is granted to download and/or save any of the material published on this website to any computer storage device. All trademarks whether marked or unmarked, are the property of their respective owner.